So who does work at The Small Business Transcriptionist?
Uh…. Transcriptionists….
No I'm serious. I am Erica Cosminsky and in this post, you will learn more about us and what we do.
The Small Business Transcriptionist was born as my solo operation and quickly grew beyond the capability of one person. Because our team specializes in teleseminar, telesummit and seminar transcription, we have large batches of audio go through our "doors" and we can usually return a telesummit or seminar in 4-7 days. What that means is our team works together to provide quicker service.
The Team
Our team is made up of specially selected, highly skilled "contractors." Our contractors are mostly work-at-home moms who are able to choose their own hours. I love the fact that my small business gives mothers the option to be home with their children a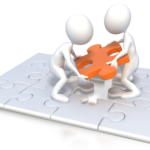 nd work around their families' needs. I also believe it leads to happier workers because they aren't so stressed about who is going to watch their children and paying for daycare.
Even though our team is based over several countries, including the U.S., Canada, U.K., Australia and the even one in the Philippines, I have come to feel that they are an extension of my family and I love working with these ladies.
The great thing about working together as a team is each member of the team gets to use their best skills. Our transcriptionists are fast typers, and grammar and editing masters. But they may not like managing a team, marketing their services or billing clients. You are probably beginning to see where working as a team becomes an advantage.
In Charge of the Grid
Allow me to introduce you to my project manager, Heather Marshall. She saves my sanity everyday. (A growing company can be a blessing and a curse…)
Heather is married to her best friend, Andy (who is a great guy) and has two adorable children. Her 10 year old daughter, Rae, plays violin, loves school, hates to clean her room and is the best big sister. Korbin is their 2 year old non-stop tornado.
My fabulous Project Manager loves to read, write and edit files. She says "I often live vicariously through my children and hope to show them all life has to offer."
Heather was an office manager for many, many years. Her daughter, Rae, was in daycare from the time she was 6 weeks old until just over two years ago when being on bed rest while pregnant found her transcribing medical documents in bed. She has an Associates in Business Administration and has a Certification as a Medical Language Specialist. And I sure hope she likes her job now.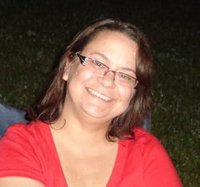 You can find Heather's blog at http://TranscriptsFromHome.com
Last but Not Least (Hopefully)
The Small Business Transcriptionist is my baby but most weeks it's not my whole life. In addition to my transcription company, I offer coaching services on working with virtual teams. Like my contractors, I am a work-at-home (single) mom and to top it all off, I am almost finished with my degree in Organizational Leadership with a Human Resources concentration. Thank goodness for online degree programs.
I live in Murfreesboro, Tennessee about 20 minutes south of Nashville. I have a 3 year old daughter Riley, a 14 year old Persian cat and a 1 year old Scottish Fold Kitten. (I won't bore you here with pictures of my kid and cats but you can find them on Facebook if you like.) I love anything geeky: computers, laptops, gadgets, my Blackberry and figuring out how things work. I also love the outdoors and am an avid fan of the Nashville Predators.
After years of working in corporate human resources, I truly love being able to have personalized contact with each of my contractors and clients. If you are ever in Nashville, be sure to let me know so we can do that coffee thing or maybe even catch a hockey game.
You can always find me on Twitter, Facebook, LinkedIn, and coaching at Simple Virtual Team Success.
Be sure to let us know more about you and how we can help you with your business.
Erica Cosminsky